| | |
| --- | --- |
| | |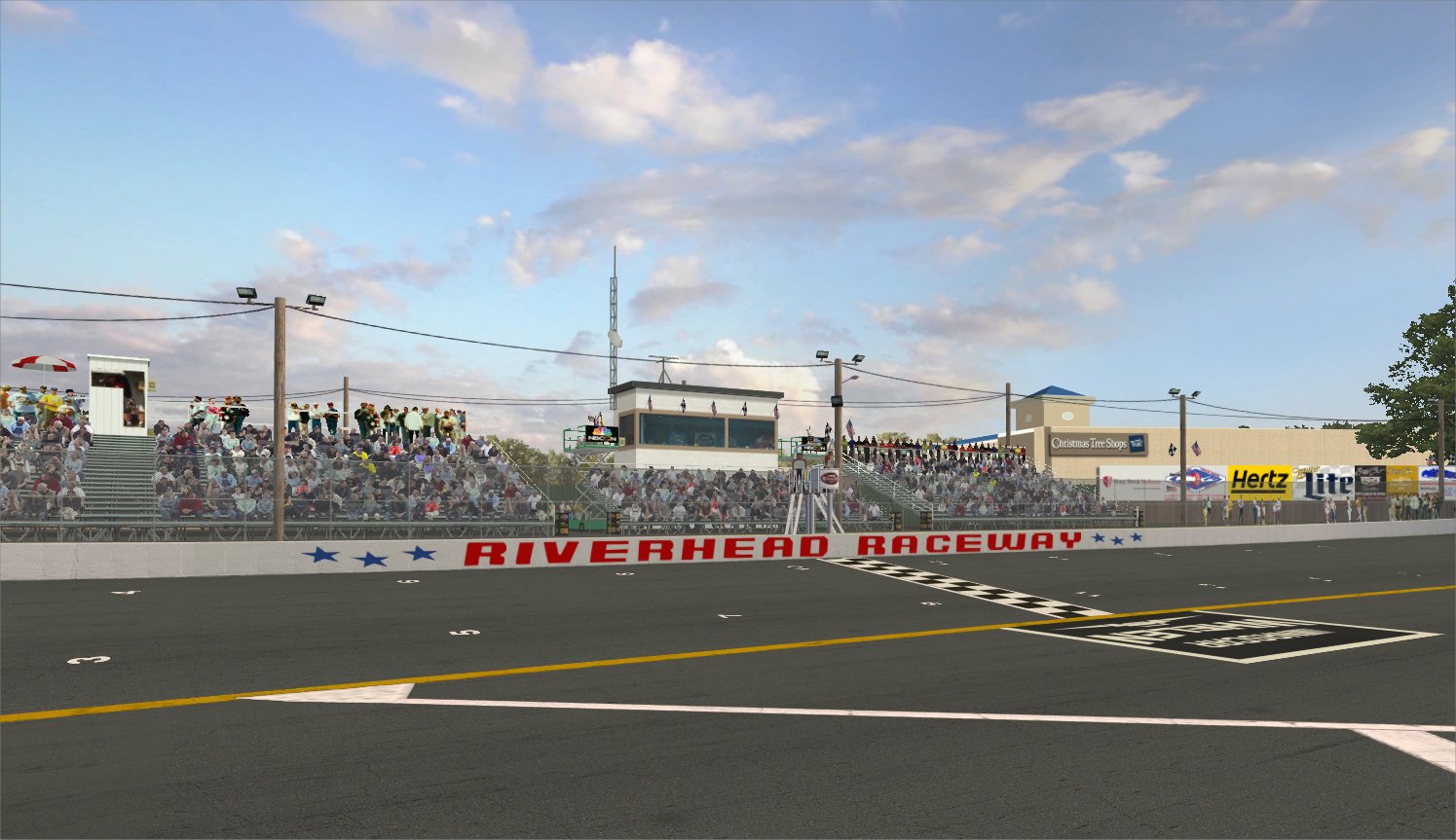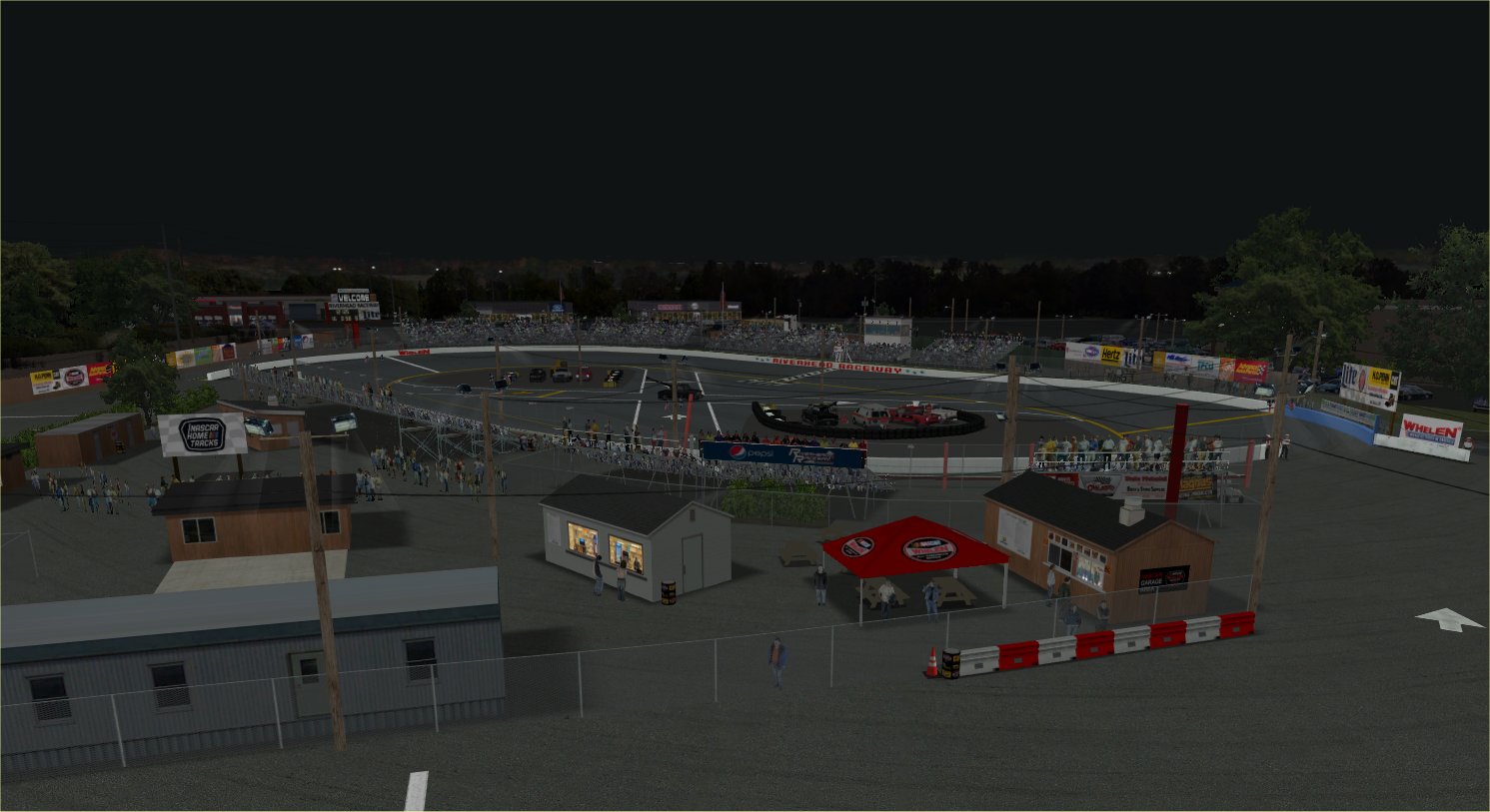 RIVERHEAD RACEWAY is Ready To Roll! from PROJECT: Short Track

One of the most anticipated short track releases for NR2003 is now available for action on your PC's! PST presents both the day and night versions of one of the Northeast's most beloved tracks, Riverhead Raceway on Long Island, NY.

Riverhead for NR2003 fills another long time missing void in the Whelen Modified Tour's schedule for short track sim racing enthusiasts. Once again the PST Development team lead by J.R. Franklin has gone to great lengths to cram every possible graphic detail into recreating this tight 1/4 mile Long Island, NY bullring. However, this track is much more than a graphic eye candy delight. It features intense A.I. side-by-side racing from virtually the drop of the green flag to the checkered flag. With a starting grid of 29 cars, the leaders will be upon back markers in short order setting up a scenario where the race leader must employ great skill and strategy in navigating his way around lapped traffic. It is an absolute blast to watch how the A.I. leaders pick their way through.

Riverhead is what they call a "rhythm" track. You cannot jump in the cockpit, strap in and hammer the throttle down. If you are too aggressive and drive it in too deep, you will pay a price. You have to drive with finesse and hit your marks. Passing here is tough. The A.I. guard the bottom, so you have to allow the field to spread out and then pick your openings. The A.I. will race you hard on both your inside or outside, so stay PATIENT.... but not too patient as the leaders are coming up behind you and they are coming fast! There are 2 racing grooves on this track and you can make passes using either the bottom or top.... but some strategic use of the 'ol "chrome horn" may be needed from time to time as well.

In order to make this track work for NR2003, we had to take some liberties from how the real-life Riverhead Raceway has it's pits configured. We have placed the pits behind the backstretch grandstands with the entrance to the pits off of turn 2 and re-entry back onto the track in it's real-life position between turns 3 and 4. However, we are sure the Riverhead Raceway purists and you will all agree that this minor alteration from the real facility does not deter from it's overall look and enjoyment. That being said, the track is set up to make a full 200 lap race without changing tires... providing you manage your tire wear during the race and not drive the wheels off it every lap. We've also provided baseline Fast setups to get you up to speed and be competitive right from the get-go.

As is the case on all of our PST projects, I had help from the usual cast of characters. Thanks go out to my friends Ben Althen, Wayne Anderson, Ian Smythe and Carl Sundberg who all made significant contributions to this project. I couldn't do this without their generous help, ample knowledge and skills.

WARNING. Highly Detailed Graphics Rich Track. In an effort to duplicate the details of the real Riverhead Raceway facility and capture as much immersion as possible for the end user, we have poured a ton of high-resolution objects and detailing into this project. Please be advised that this track may tax the ability of some computers. We apologize in advance if this is the case for you. If you are experiencing difficulty running this track and your frame rates are dropping below 30 FPS, we might recommend installing the 4GB Patch offered at NTCore.com (https://ntcore.com/?page_id=371). Details about installing this patch can be found at the StunodRacing.net forum: (http://stunodracing.net/index.php?threa ... atch.7183/).

Also in closing, there are some minor "quirks" with this track (as with other very small short tracks made for NR2003) that you need to be aware of so PLEASE be sure to read all the CREDITS README file provided with the track.

So at long last it's a wrap from the "guys who make short track racing a virtual reality".... DRIVERS START YOUR ENGINES!.... PROJECT: Short Track presents Riverhead Raceway! Enjoy the ride!

J.R. Franklin and The PROJECT: Short Track Development Team
Ben Althen ,Wayne Anderson, Ian Smythe and Carl Sundberg

Archive contains both day and night track.


---

DOWNLOAD :

Riverhead_2018_PST.7z (7zip Archive 72.8MB)




---